Fair Price Promise at Mitch Smith Chevrolet, Inc.
At Mitch Smith Chevrolet, our customers always come first which is why we pride ourselves on transparent and fair pricing.
That means that the price you see is the price you pay! It's that simple. Plus, you may even qualify for additional rebates. Which is more than some of our competitors can say who are known to pull the old bait and switch just to get you in the door.
We say that's just not fair and just like our Mom's would say, if it looks too good to be true, it probably is. Don't be fooled by misleading prices and high doc fees. Our prices are fair and our doc fees are always $0!
Sticking to our Southern roots and treating each customer with the same respect as the next is just how it should always be.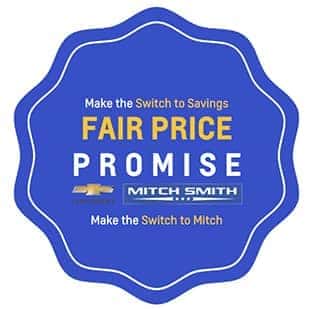 Make the Switch to Mitch Smith Chevrolet, Inc. Today, Where You'll Always Get a Fair Price!
Get Directions To Our Dealership